Vital 3 Derm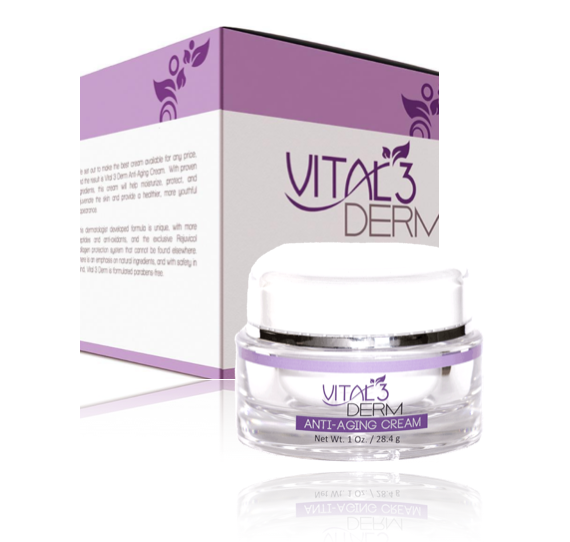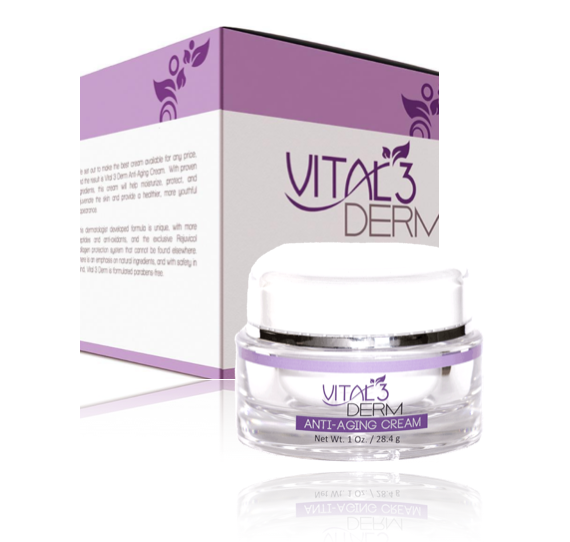 Vital 3 Derm
Vital 3 Derm Anti-Aging Cream was developed as a revolutionary and unique alternative to existing skin rejuvenation products. Having worked tirelessly with dermatologists and skin care specialists, Vital 3 Derm has emphasized the usage of more natural, paraben-free ingredients and includes its exclusive Rejuvicol collagen-protection system. Utilizing more peptides and anti-oxidants than previous formulas, Vital 3 Derm's Anti-Aging Cream successfully moisturizes, protects, and rejuvenates skin of all types to provide a healthy youthful appearance.
Directions:
Apply to clean, dry skin once or twice daily as desired. Gently rub in until absorbed.
1 Jar of Vital 3 Derm typically lasts 2 months but can last between 1 and 3 months depending on usage.
Ingredients:
Water (Aqua), Glycerine, Stearyl Heptanoate, Butyrospermum Parkii (Shea) Butter, Beeswax, C12-15 Alcyl Benzoate, Phosphatidylcholine, Myristyl Alcohol, Cetearyl Isononanoate, Sodium Hyaluronate, Coco Caprylate, Caprylic/Capric Triglyceride, Propanediol, Alpha Palmitoyl Peptide-21, Cetyl Alcohol, Niacin, Alpha Oligo Peptide-6, Vitis Vinifera (Grape) Fruit Cell Extract, Proline, Argania Spinosa Sprout Cell Extract, Argenine, Rhododendron Ferrugineum Leaf Cell Culture Extract, Isomalt, Alanine, Rosmarinus Officinalis (Rosemary) Leaf Extract, Squalane, Prunus Amygdalus Dulcis (Sweet Almond) Oil, Anti-Collagenase-1 MMA Saline Solution (Rejuvicol), Glycine, Panthenol, Sodium Ascorbyl Phosphate, Aloe Barbadensis Leaf Extract, Peucedanum Graveolens (Dill) Extract, Curcuma Longa Extract, Royal Jelly Extract, Ganoderma Lucidum (Mushroom) Stem Extract, Retinyl Palmitate, Bisabolol, Fragrance, Lavandula Angustifolia (Lavender) Oil, Phenoxyethanol, Potassium Sorbate, Ethylhexylglycerin, Oxy CA (Rosmarinus Officinalis Leaf Extract CO2 and Ascorbyl Palmitate and Caprylic/Capric Triglycerides and Ascorbic Acid and Tocopherol and Citric Acid)